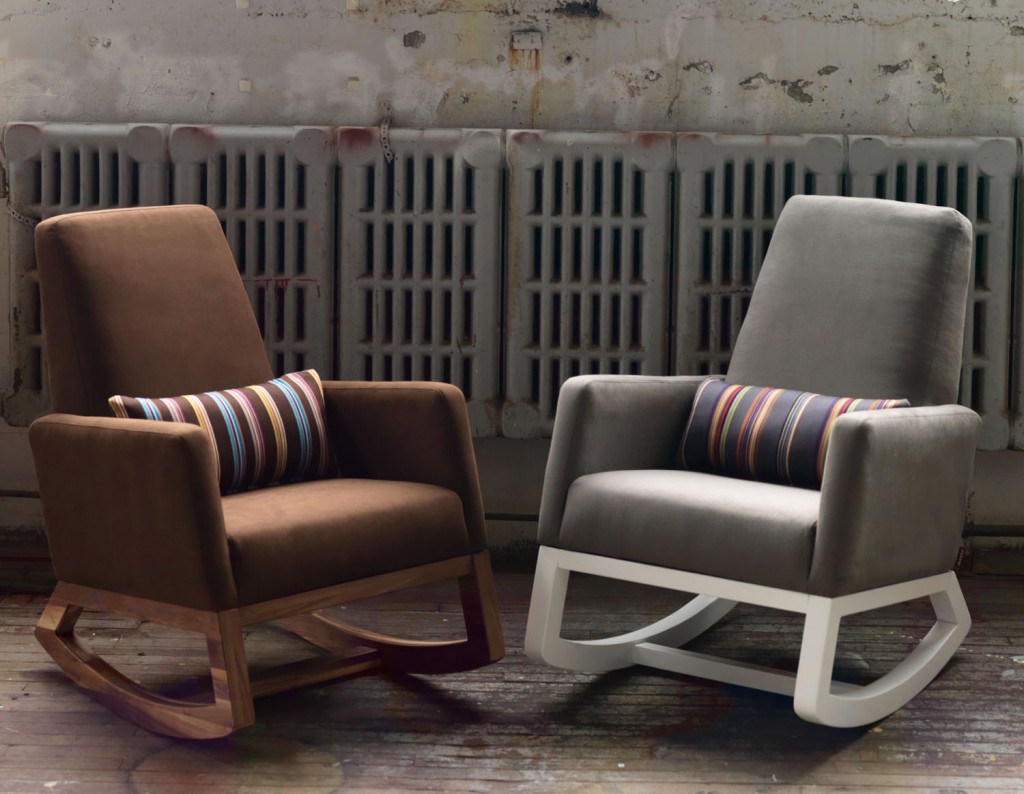 Gliders and rockers suitable for a small nursery can be hard to find, even more so if you'd like something other than bare wood or a bunch of cotton wrapped around a 1000-year-design. Here are five modern chairs that are suitable for a nursery and are all under 30″ wide, small enough to fit up most staircases, through most doorways and look great doing it. Keep in mind that if these price tags don't fit into your budget these chairs are often available used on Kijiji and Craig's List at substantial discounts (just watches replica out for bed bugs).
Grano Glider Recliner, Monte Design, $1,195

Toronto-based Monte Design offers a number of chairs that fit the bill for this post, modern designs, well made and narrow enough to fit in the smallest of urban nurseries. Monte Design chairs are made-to-order and are available in an impressive array of colours. The Grano Glider Recliner is one of the only recliners, including less snazzy designs, that would actually survive the squeeze up our staircase and into our nursery. The fact that it looks stunning, well, that's just a bonus I suppose. For those with extra narrow passages transporting this chair on it's side with the reclining mechanism extended is probably one of the narrowest dimensions possible.
Glider: Width 28″ x Depth 32″ x Height 39″
Seat: Height 18″
In Full Recline: 64″ Long
Vola Glider, Monte Design, $995

Another suitable offering from Monte Design is their Vola Glider. Personally I lean more to the straight lines of their other chairs, but for those of you looking to blend modern design with the scrolling curves of a more traditional nursing chair, then by all means connect your posterior.
Glider: Width 28″ x Depth 32″ x Height 38″
Seat: Height 18″
Joya Rocker, Monte Design, $995

Perhaps some of the most stylish designs from Monte are found in their rockers. Thankfully, the Joya Rocker is quite narrow, at 25″ wide it shouldn't have much trouble at all travelling to, and fitting in, any nook or cranny.
Rocker: Width 25″ x Depth 31″ x Height 36″
Seat: Height 17″
Sparrow Glider & Ottoman, Gus* Modern, $1,099.00

Constructed with 100% FSC®-Certified Wood in support of responsible forest management, the Gus* Modern Sparrow's clean lines and simple design make it a fantastic calming oasis in any nursery.
Glider: Width 26″ x Depth 34″ x Height 37″
Seat: Height 17″
Ottoman: Width 21″ x Depth 20″ x Height 17″
Eames Rocker, Herman Miller, $499

Some folks love sitting in the Eames Rocker, other's not so much, find out which you are before shelling out for this design icon. Easy to fit, easy to clean, available in many colours and at half the cost of the other chairs in this list it's a great option to add a modern accent to your nursery without raiding the education fund.
Rocker: Width 25″ x Depth 24″ x Height 27.5″